Wow what a weekend!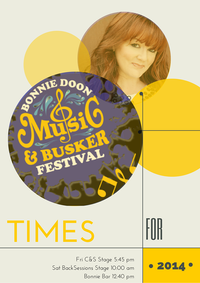 Cathy Dobson and I travelled together up to the inaugural Bonnie Doon Music Festival on Friday afternoon - performing on Friday evening and Saturday!  Friday evening was gorgeous and sunny (hot) but as the sun went down and people came in from work/school, the atmosphere certainly was one of relaxation and music together in one spot!
Great music, great food (twisty fried potatoes!) Thai, pizza, wine, home brew beer and cider, you name it - AND loads of great music!  What more could you ask for - congrats to the organisers -
Bonnie Doon Music Festival
promises to become something huge! 
The Bonnie Doon Hotel looked after us superbly on Friday night too - so next time you're there - pop in for a feed and a drink and a sit in the beer garden!! 
The only negative was having the  absolute wits scared out of me on Saturday mornng - apparently it was the opening of the duck shooting season and as Bonnie Doon is in a valley - the echoes of shot guns were so loud - I thought we were being over taken by some anti-music-festival protesters!!!
No matter - we still had a great time!
I also met two wonderful souls in Bonnie Doon (Ben Anfruns and Dr Chantel Fitzsimmons, who are cycling 16000 ks around Australia to raise money for Angel Flight and Neuroscience research Australia....you can read all about their stop in Bonnie Doon here - but have a good read through their blog, and DO make a donation if you can!!!
Care
Cycle Oz
Cathy and I left Bonnie Doon Saturday afternoon and managed to hit Melbourne just as the storm hit so we were very lucky to not have to drive through it!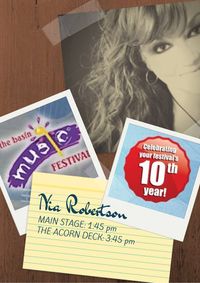 On Sunday - I stayed a little closer to home and Billy and I headed up 'the mount' to The
Basin Music Festival
, which is the biggest little festival in Melbourne - superbly run, friendly, diverse and never ceases to amaze me - I always discover someone new there!!!  We had a ball!  Billy was in fine form too as always and we caught up with loads of lovely friends and made some new ones too!
A huge weekend of music!
Keep an eye on my gig guide for where I'll be next - loads of great things coming up!
Love Nia xxx