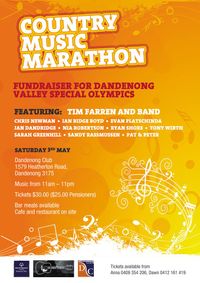 Coming up in May I have two very special appearances...the first on Saturday the 3rd May is the Country Music Marathon at the Dandenong Workers' Club with my trio (Billy Mc on guitar and mando and Ryan on double bass!) This is a show in aid of the Dandenong Valley Special Olympics - what an amazing cause to contribute to!  Please come along and support these athletes and the artists that are supporting them!  Some really great talent - promises to be bigger than Ben Hur!
Music from 11 am - 11pm with the Tim Farren Band, Chris Newman, Jan Dandridge, Ian Bidge Boyd, Evan Platschinda, Tony Wirth, Ryan Shore, Sarah Greenhill, Sandy Rassmussen, Pat and Peter...and ME!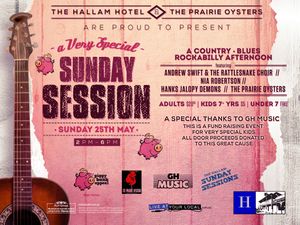 Secondly I will be playing with my WHOLE BAND (yes that's right all of us together in one spot at one time!) for the Very Special Kids Fundraiser at the Hallam Hotel on Sunday 25 May at 2pm!  Andrew Swift and The Rattlesnake Choir, Hanks Jalopy Demons, The Prairie Oysters and me and my fabulous band of merrymakers!  There's a dance floor too so come along and dance teh afternoon away with us!
Both of these causes are sensational and I can't wait to play for you all!  I might have a new song or two to share also!  Very cool!